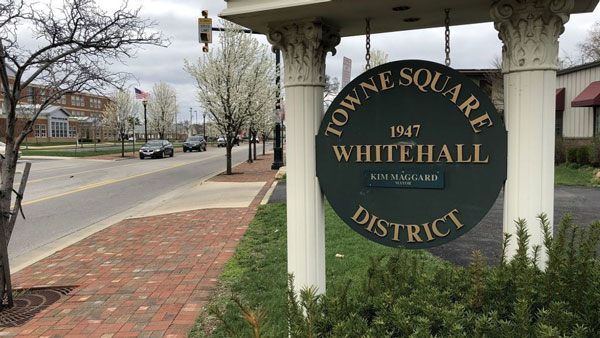 We're Proud to Service Whitehall, OH!
Eastland Heating & Cooling is proud to serve the hardworking homeowners of Whitehall, OH, and surrounding areas, with a superior level of customer service that makes HVAC seem like a breeze. It is our mission to provide you with a Five Star Experience each and every time. We offer Whitehall, OH, residents premium Heating, Cooling, and Indoor Air Quality products and services for homeowners on all types of budgets. This means we have the prices you want, the service you need, and the comfort you deserve. We're a Comfortmaker Elite Dealer in the Columbus market! Get a free online estimate on Comfortmaker products today!
We offer 24-hour local emergency HVAC repair services 365 days a year, including holidays and weekends. Need a tune-up? We offer A/C, furnace and heat pump maintenance to make sure you're ready for the upcoming season. We service all brands of HVAC equipment in Whitehall, OH, such as Amana, Goodman, and more! With our stress-free and quick scheduling options, we are here to help you. Experience the Five Star Difference with Eastland Heating & Cooling!
Getting to Know Whitehall, OH
Located on the east side of Columbus, Whitehall's most recent population estimate was at 18,926 residents. Kim Maggard is currently serving as mayor.
During the 1940s and 1950s, Whitehall still had working farms, and the area was of a mixed-income with mostly small homes. Although it was still a village in the 1940s, the local residents filed for incorporation in the year 1947.
Five years later, in 1952, Whitehall's boundaries were expanded east to the country club and to Big Walnut Creek. Because of the sudden rapid growth, in the 1950s it became a city. In 1948, Whitehall became home to the first shopping center strip in the country, which was called Casto's Town and Country. The National Road passed through Whitehall.
In August 1970, the city made national news when two department stores were bombed to create a diversion in an armed robbery incident. The robber, a man named William Harris, was arrested after a civilian chased him down and apprehended him for police. According to a New York Times article published from the event, Harris was seen running from a store with a gun in hand after the first explosion went off. The civilian, a man named Roger Penwell, is said to have chased him down on his motorcycle despite Harris firing gunshots at him to stop him. Penwell was eventually given the Carnegie Hero Fund's Bronze Medal for his acts of bravery and heroism. His efforts are believed to have actually saved lives. Additionally, because of what Penwell did, police located 62 additional stacks of dynamite in three other locations. This helped save property and innocent lives. 
According to the U.S. Census, Whitehall has a total area of 5.29 square miles, with the Big Walnut Creek flowing through it, defining its eastern border. Whitehall is located near the Port Columbus International Airport. The 338th Army Band is also stationed in Whitehall at the Defense Supply Center.
Eastland Heating & Cooling is Your Local HVAC Specialist in Whitehall, OH
At Eastland Heating & Cooling, we send out our technicians fully equipped with all sorts of up-to-date HVAC equipment. We carry a wide selection of furnace filters, HEPA filters, A/C filters, coils, refrigerants, and more. We keep up with the latest modern technology in thermostats, including smart thermostats and programmable thermostats, which are growing in popularity as upgrades because they pay for themselves quickly. We can repair AC fans and A/C compressors, as well as recharge refrigerant levels, which should only be done by a professional. We also service gas furnaces, electric furnaces, heat pumps and every other type of heating system. We also have a vast selection of Indoor Air Quality products, such as Whole-Home Humidifiers, Air Purifiers, and more.
So, if you're a Whitehall, OH area homeowner asking yourself "why is my A/C not blowing cold air?" or "why is my furnace not blowing?" or "why is my house so humid?" or any other question related to an HVAC system, we have the answers and we would be happy to come out and help you out. If you reside in the Central Ohio region and need help with home comfort or air quality, we would be more than happy to provide you with any of our premium, residential HVAC services at an affordable price. Need emergency Heating or Cooling services? Is your furnace not warming your home? Give us a call at (614) 861-5203. Or, you can schedule an appointment online now by clicking here! Trust Eastland Heating & Cooling to provide you with a Five Star Experience today!
Local Reviews
for Whitehall, OH
Five Star Heating & Cooling Group
Rated
5.0
out of 5 stars based on
2
customer reviews
Powered by Nearby Now
---
Great
Ray

-

Whitehall

,

OH

43213



Review of
Five Star Heating & Cooling Group
Absolutely positively outstanding very punctual very professional very courteous got job done in a timely manner couldn't ask for anything better
---
Very Pleased
Judy

-

Whitehall

,

OH

43213



Review of
Five Star Heating & Cooling Group
---
Jesse S.
186587
Near

E Main St,

Whitehall

,

OH

43213
Jesse S.
186762
Near

E Main St,

Whitehall

,

OH

43213
Shane C.
185391
Near

N Yearling Rd,

Whitehall

,

OH

43213
Jesse S.
164791
Near

Antwerp Rd,

Whitehall

,

OH

43213
Tony C.
I completed a diagnostic on a Carrier A/C. Customer let me know that the A/C was frozen yesterday. I inspected the system and found outdoor unit is covered with debris. I also found that duct runs were sweating. The dirty filter that was removed before I arrived most likely caused most issues. They are going to clean the outdoor unit and replace the filter more often. Operating at departure.
Near

E Main St,

Whitehall

,

OH

43213
Noah B.
I had vehicle maintenance performed on my vehicle. Everything is good as is upon departure.
Near

E Broad St,

Whitehall

,

OH

43213
Clayton S.
70970742
Near

St Margaret Ln,

Whitehall

,

OH

43213
Tony C.
Upon arrival l tech found the thermostat at 90 degrees. I found that filter was dirty. I removed filter and went out to unit. I hooked gauges up to unit and found that unit is low on refrigerant. Unit and line set hold approximately 6-7 lbs of R22. Customer decided that they wanted to wait and talk to their insurance company before getting an estimate. I left card with customer and they said that they would contact us to get an estimate. Unit is low on refrigerant due to leak because of age of unit. Customer does not have a/c at this time.
Near

Harbinger Cir W,

Whitehall

,

OH

43213