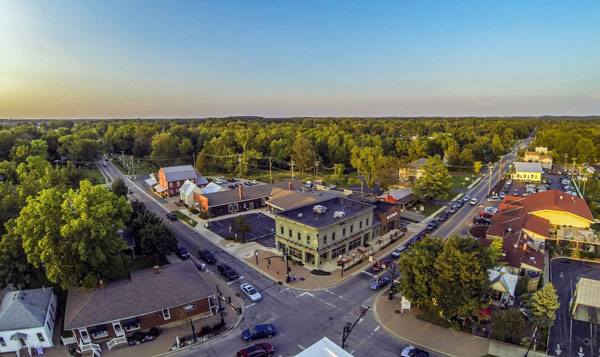 We're Proud to Service Powell, OH!
Eastland Heating & Cooling is proud to serve the hardworking homeowners of Powell, OH, and surrounding areas, with a superior level of customer service that makes HVAC seem like a breeze. It is our mission to provide you with a Five Star Experience each and every time. We offer Powell, OH, residents premium Heating, Cooling, and Indoor Air Quality products and services for homeowners on all types of budgets. This means we have the prices you want, the service you need, and the comfort you deserve. We're a Comfortmaker Elite Dealer in the Columbus market! Get a free online estimate on Comfortmaker products today!
We offer 24-hour local emergency HVAC repair services 365 days a year, including holidays and weekends. Need a tune-up? We offer A/C, furnace and heat pump maintenance to make sure you're ready for the upcoming season. We service all brands of HVAC equipment in Powell, OH, such as Amana, Goodman, and more! With our stress-free and quick scheduling options, we are here to help you. Experience the Five Star Difference with Eastland Heating & Cooling!
Getting to Know Powell, OH
Powell is located in Delaware County, Ohio, north of Columbus. The city has a population of 13,375. With the town's first settlers having moved there from the Middlebury, Connecticut, area it was originally called "Middlebury." It was settled around the year 1801, however, two years before Ohio became a state.
In 1857, the local Judge Thomas Powell started the first post office there, and soon after the residents chose his name to adopt for the town. As such, Powell's origins came about with the construction of the railroad going through that area. In 1947, Powell was incorporated as a municipality and its population remained small until around the late 1980s, when residential development spreading from the northern Columbus metropolitan area started to arrive in Powell. Then, in 20 years, the population jumped from what was less than 400 people to more than 6,000 people and the city exploded in size. By July of 2005, Powell was given a ranking of 18 by CNN and Money magazine on their list of the "100 Best Places to Live in the U.S."
Powell is located between the Scioto and Olentangy and rivers, about 14 miles north of Columbus. 
Parks in Powell include Village Green Park, Seldom Seen Park, Adventure Park, Big Bear Park, Meadowview Park and Arbor Ridge Park. Local dining and such includes Huli Huli Tiki Lounge, Atithi Indian Cuisine, Nocterra Brewing Co., Powell Village Winery.
Eastland Heating & Cooling is Your Local HVAC Specialist in Powell, OH
At Eastland Heating & Cooling, we send out our technicians fully equipped with all sorts of up-to-date HVAC equipment. We carry a wide selection of furnace filters, HEPA filters, A/C filters, coils, refrigerants, and more. We keep up with the latest modern technology in thermostats, including smart thermostats and programmable thermostats, which are growing in popularity as upgrades because they pay for themselves quickly. We can repair AC fans and A/C compressors, as well as recharge refrigerant levels, which should only be done by a professional. We also service gas furnaces, electric furnaces, heat pumps and every other type of heating system. We also have a vast selection of Indoor Air Quality products, such as Whole-Home Humidifiers, Air Purifiers, and more.
So, if you're a Powell, OH area homeowner asking yourself "why is my A/C not blowing cold air?" or "why is my furnace not blowing?" or "why is my house so humid?" or any other question related to an HVAC system, we have the answers and we would be happy to come out and help you out. If you reside in the Central Ohio region and need help with home comfort or air quality, we would be more than happy to provide you with any of our premium, residential HVAC services at an affordable price. Need emergency Heating or Cooling services? Is your furnace not warming your home? Give us a call at (614) 861-5203. Or, you can schedule an appointment online now by clicking here! Trust Eastland Heating & Cooling to provide you with a Five Star Experience today!
Eastland Heating & Cooling Customer Reviews