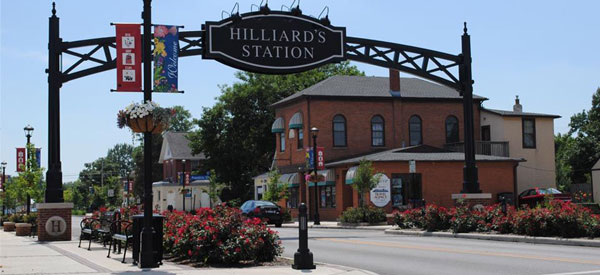 We're Proud to Service Hilliard, OH!
Eastland Heating & Cooling is proud to serve the hardworking homeowners of Hilliard, OH, and surrounding areas, with a superior level of customer service that makes HVAC seem like a breeze. It is our mission to provide you with a Five Star Experience each and every time. We offer Hilliard, OH, residents premium Heating, Cooling, and Indoor Air Quality products and services for homeowners on all types of budgets. This means we have the prices you want, the service you need, and the comfort you deserve. We're a Comfortmaker Elite Dealer in the Columbus market! Get a free online estimate on Comfortmaker products today!
We offer 24-hour local emergency HVAC repair services 365 days a year, including holidays and weekends. Need a tune-up? We offer A/C, furnace and heat pump maintenance to make sure you're ready for the upcoming season. We service all brands of HVAC equipment in Hilliard, OH, such as Amana, Goodman, and more! With our stress-free and quick scheduling options, we are here to help you. Experience the Five Star Difference with Eastland Heating & Cooling!
Getting to Know Hilliard, OH
Home of the Early Television Museum, Hilliard is a Franklin County suburb located northwest of Columbus in Norwich Township. The city has a population of 36,534 people. Locals say their Early Television Museum is the only museum of its kind in the U.S. Additionally, Hilliard is also home to the second-largest First Responders Park in the nation, which includes Heritage Rail Trail at the fire department off Northwest Parkway. It features the only flag pole that isn't in a museum that came from the World Trade Center. Originally called Hilliard's Station, the town started forming near the railroad route of the Indiana and Piqua Railroad station, which divided the former farmland. Hilliard's Station was considered an ideal shipping point for agricultural products heading to market and supplies needed by farmers in the area. The first land area was laid out by John Hilliard in 1853.

The old railroad station and the Main Street remained the town center until the mid 20th century. A post office was established in Hilliard's Station in 1854, and soon the word "Station" was removed from the town name. On July 13, 1869, Hilliard became incorporated as a village with a population of around 280 residents. In 1886, the first railroad station was established on the north side of the line, west of Main Street. It remained there until all railroad services ceased in 1962. Today, that original train station still stands restored and preserved in Hilliard's historical Weaver Park. On Dec. 12, 1960, Hilliard gained the status as a city official when the population reached 5,633. However, when the I-270 outer belt was completed in the early 1970s, Hilliard saw the second wave of massive growth. Things to do in Hilliard and places to visit include Ten Pin Alley, Roger A. Reynolds Municipal Park, Heritage Golf Club and Hilliard Ohio Historical Society.
Eastland Heating & Cooling is Your Local HVAC Specialist in Hilliard, OH
At Eastland Heating & Cooling, we send out our technicians fully equipped with all sorts of up-to-date HVAC equipment. We carry a wide selection of furnace filters, HEPA filters, A/C filters, coils, refrigerants, and more. We keep up with the latest modern technology in thermostats, including smart thermostats and programmable thermostats, which are growing in popularity as upgrades because they pay for themselves quickly. We can repair AC fans and A/C compressors, as well as recharge refrigerant levels, which should only be done by a professional. We also service gas furnaces, electric furnaces, heat pumps and every other type of heating system. We also have a vast selection of Indoor Air Quality products, such as Whole-Home Humidifiers, Air Purifiers, and more.
So, if you're a Hilliard, OH area homeowner asking yourself "why is my A/C not blowing cold air?" or "why is my furnace not blowing?" or "why is my house so humid?" or any other question related to an HVAC system, we have the answers and we would be happy to come out and help you out. If you reside in the Central Ohio region and need help with home comfort or air quality, we would be more than happy to provide you with any of our premium, residential HVAC services at an affordable price. Need emergency Heating or Cooling services? Is your furnace not warming your home? Give us a call at (614) 861-5203. Or, you can schedule an appointment online now by clicking here! Trust Eastland Heating & Cooling to provide you with a Five Star Experience today!
Eastland Heating & Cooling Customer Reviews