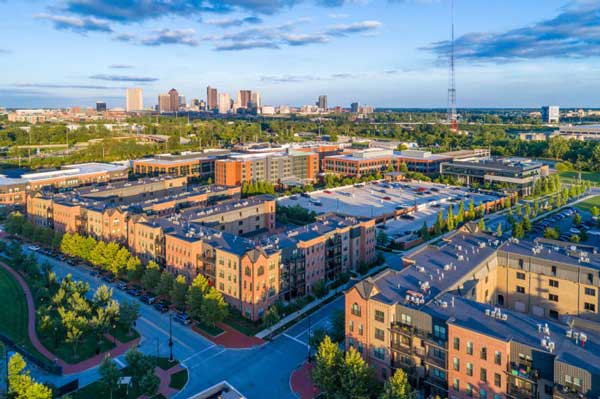 We're Proud to Service Grandview Heights, OH!
Eastland Heating & Cooling is proud to serve the hardworking homeowners of Grandview Heights, OH, and surrounding areas, with a superior level of customer service that makes HVAC seem like a breeze. It is our mission to provide you with a Five Star Experience each and every time. We offer Grandview Heights, OH, residents premium Heating, Cooling, and Indoor Air Quality products and services for homeowners on all types of budgets. This means we have the prices you want, the service you need, and the comfort you deserve. We're a Comfortmaker Elite Dealer in the Columbus market! Get a free online estimate on Comfortmaker products today!
We offer 24-hour local emergency HVAC repair services 365 days a year, including holidays and weekends. Need a tune-up? We offer A/C, furnace and heat pump maintenance to make sure you're ready for the upcoming season. We service all brands of HVAC equipment in Grandview Heights, OH, such as Amana, Goodman, and more! With our stress-free and quick scheduling options, we are here to help you. Experience the Five Star Difference with Eastland Heating & Cooling!
Getting to Know Grandview Heights, OH
Located along the Scioto River, near the Olentangy River, Grandview Heights had a population of just under 7,000. Originally, the city was part of Marble Cliff. It is one of Columbus' first suburban areas and was first settled in 1890 as a community. Grandview Heights was originally incorporated as the "Hamlet of Marble Cliff" in 1901. Then, by 1906, it's name changed and it became its own village. By 1931, it became a city.
With a total area of 1.33 miles (all of which is land), Grandview Heights has its own policing and fire fighting departments in addition to its own independent school district. The city's neighboring municipality, Marble Cliff, has an agreement with Grandview Heights to provide these services to its own inhabitants.
Grandview Heights is conveniently located close to most of central Ohio's major conduits. It's only a few minutes from Downtown Columbus, the Columbus Museum of Art,  the Greater Columbus Convention Center, Ohio Stadium, COSI, Huntington Park, and Columbus' Arena District.
However, you don't have to go far to satisfy any craving for local flavor. Within its own city limits, Grandview Heights also has a wide variety of shopping, dining, coffee and craft beer, including Breakout Games Columbus, High Bank Distillery, Ohio Power Tool, Brekkie Shack, Stauf's Coffee Roasters, Modo Yoga, Camp Bow Wow, Hofbrauhaus Columbus, Wyman Woods Park and Grandview Heights Municipal Pool and Grandview Terrace.
Eastland Heating & Cooling is Your Local HVAC Specialist in Grandview Heights, OH
At Eastland Heating & Cooling, we send out our technicians fully equipped with all sorts of up-to-date HVAC equipment. We carry a wide selection of furnace filters, HEPA filters, A/C filters, coils, refrigerants, and more. We keep up with the latest modern technology in thermostats, including smart thermostats and programmable thermostats, which are growing in popularity as upgrades because they pay for themselves quickly. We can repair AC fans and A/C compressors, as well as recharge refrigerant levels, which should only be done by a professional. We also service gas furnaces, electric furnaces, heat pumps and every other type of heating system. We also have a vast selection of Indoor Air Quality products, such as Whole-Home Humidifiers, Air Purifiers, and more.
So, if you're a Grandview Heights, OH area homeowner asking yourself "why is my A/C not blowing cold air?" or "why is my furnace not blowing?" or "why is my house so humid?" or any other question related to an HVAC system, we have the answers and we would be happy to come out and help you out. If you reside in the Central Ohio region and need help with home comfort or air quality, we would be more than happy to provide you with any of our premium, residential HVAC services at an affordable price. Need emergency Heating or Cooling services? Is your furnace not warming your home? Give us a call at (614) 861-5203. Or, you can schedule an appointment online now by clicking here! Trust Eastland Heating & Cooling to provide you with a Five Star Experience today!
Local Reviews
for Grandview Heights, OH
Powered by Nearby Now
---
Brody W.
185992
Near

Copeland Rd,

Grandview Heights

,

OH

43212
Christopher M.
186365
Near

Lincoln Rd,

Grandview Heights

,

OH

43212
Eric D.
186221
Near

Lincoln Rd,

Grandview Heights

,

OH

43212
Chad M.
168892
Near

Northwest Blvd,

Grandview Heights

,

OH

43212
Tony C.
Performed a diagnostic service call for a 2018 AC unit. Upon arrival, the tenant informed us that the unit froze up on them. We went out to the furnace and checked the coil. Coil was clean. No debris, no ice. Checked filter and found that current filter was dirty.
Near

Haines Ave,

Grandview Heights

,

OH

43212
Chad M.
Performed a diagnostic service call for a 2006 AC unit. Performed a diagnostic on a.c not working properly. Unit was installed by us in 2019. Found unit running with a high suction pressure. Found issue to be that's the unit is using a 3m filtrates purple. Which is 110% clogged.
Near

Haines Ave,

Grandview Heights

,

OH

43212
Noah B.
Performed a diagnostic service call for a 2018 ac unit. Tenant complaint is turbulent airflow noise in cooling mode. Cold air is heavier and requires higher fan speeds. Noise is accentuated by close proximity of return vent register to trunk and drop, next to tv in sitting room.
Near

Haines Ave,

Grandview Heights

,

OH

43212